Tungsten Jigs: Keitech Model III Swim Tungsten Jig

The Keitech Model III Swim Jig is a revolutionary Tungsten Swim Jig design that combines a custom Daiichi super strong weighted jig head with an exclusive SR-40 snap-on silicone skirt with a screw-in keeper. When combined, the jig and skirt provide perfect alignment and balance and become totally weedless. The Model III Swim Jig was designed for use with the 4.8 FAT Swing Impact. When used together it becomes the deadliest lure in your arsenal. The weedless design allows the angler to utilize various techniques without ever picking up another rod. Cast it and retrieve on shallow cover, Flip or pitch it directly at the target, probe weed beds. The options are endless...
Keitech Model III Tungsten Swim Jig Features:
Tungsten head 30% smaller & harder than lead
Teardrop keel head slices through cover
SR-40 silicone hand tied on an exclusive snap screw keeper
Custom Keitech designed 5/0Daiichi hook
Available in 1/4oz. & 3/8oz. sizes


The Tungsten keel design head provides a unique action.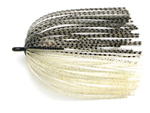 The custom SR-40 skirt is hand tied to the screw lock keeper.
Custom Daiichi 5/0 super strong hook fits the 4.8 Fat Swing Impact perfectly.

Screw-lock skirt keeper holds the trailer firmly in place.